Only 53% of New Yorkers support the newly legal recreational legalization. According to recent polls, the remaining 47% do not want adult-use cannabis. This has made experts question the probability of having a thriving cannabis market when almost half the population is not interested.
New York has one of the best medical cannabis programs in the country. This is evidenced by the number of patients in the program and annual sales. The state's legal recreational market is looming. Officials are currently putting things to ensure the market blossoms as soon as it is established.
Legal Cannabis In New York
The prohibition of recreational cannabis ended in March 2021, almost a year ago. The approved bill called the Marijuana Regulation and Taxation Act was signed into law by the former governor, Andrew Cuomo. Last year, the board of the proposed regulatory agency was put together by the current government, led by Governor Kathy Hochul.
A few weeks ago, reports said that a new measure could be heading to the governor's office. The new bill would give hemp farmers a hold in the new market. They would have a conditional license to grow, process, and distribute different cannabis products.
The path to accessible recreational cannabis is not as straightforward as it should be right now. Indications show that there are still some significant obstacles that must be overcome before New Yorkers can finally purchase cannabis from licensed marijuana dispensaries across the state.
The Opt-Out Clause
The major challenge in the way of legal cannabis is the Opt-Out Clause. Almost half of the total localities in New York have taken a stance against selling legal pot.
Recent data published by Benzinga states that 54% of communities do not support cannabis consumption spaces in their regions, while 47% are against rolling out spaces for cannabis stores. This is a major roadblock to establishing an equitable and sustainable sector.
Steve DeAngelo, a renowned cannabis activist, referred to as "The Father of the Legal Cannabis Industry" due to his immense contribution to cannabis advocacy, says that it is still possible for New York and other states in similar positions to create suitable legal cannabis markets. He referenced California's budding legal market in a Times Union op-ed, stating that the state generates a considerable percentage of its revenues from corporate companies that have holdings in various legal states.
DeAngelo pointed out that California also has municipalities that have refused to allow cannabis sales in their regions. Despite this, California has maintained a flourishing and profitable weed market. New York isn't the only state where the Opt-Out Clause is being used. It could follow the blueprint laid out by California to create a better cannabis market.
Mr. Steve DeAngelo also mentioned the presence of legacy operators in the country. He explained that legacy operators are vital to the continuity of the cannabis industry. Legacy operators are cannabis businesses that have been in business long before cannabis operations were legalized. He suggested that New York partner with one or more of these companies to kick-start operations. He further added that legacy operators like Bhang are pioneers of the industry. With their experience, the New York cannabis industry would be better off.
Taking A Comprehensive Approach
Many cannabis market experts have pointed out that a comprehensive approach would be the best way to make the New York cannabis market better.
This involves licensing existing operators or legacy operators, to continue handling the markets they created, establishing an amnesty program to give new operators a fresh start, and training as well as financing interested applicants with skills and resources that would contribute to the overall success of the industry.
Although California is a good model of a near-perfect cannabis market, there are some mistakes made that New York could learn from.
Municipalities, where cannabis is sold in California, have heavily taxed the product. In some regions, operators are mandated to pay about 40% tax on each sale. The state has a highly regulated market where small-scale and independent cultivators can hardly stay relevant. To survive in the California weed market, a business needs to find enough funds and resources to stay afloat or join a corporation. This downside is one of the reasons why there are many illegal operators.
New York has to use this opportunity to create an equitable market that creates space for small and large-scale operators. Having an equal playing field with reasonable taxes and regulations will allow local operators to thrive and keep out corporate multi-state operators.
DeAngelo stressed that leaving legacy operators out of legal markets does not mean they'll automatically disappear or lose their relevance. These businesses have developed proper market systems and strategies that would allow them to stay relevant for decades to come.
The End of Cannabis Gift Shops
When the prohibition was lifted in March, some stores adopted a rewarding system where customers were gifted cannabis products as souvenirs. This has become quite common in New York stores. Some have gone as far as selling some of these products to customers even though the government has yet to issue operational licenses.
The cannabis management enforcement unit has caught wind of this practice and has warned the stores involved to desist from the act. The OCM sent letters to all twenty-four, asking them to cease and desist from the gifting practice. The unit's executive director, Chris Alexander, stated that this practice threatens public health and safety.
Bottom Line
New York is in the process of building a regulated cannabis market that would rival previously established recreational markets. The state is committed to ensuring that in its bid for economic growth, the public's health and safety are not compromised.
The state plans to ensure all products are tested by approved laboratories and fit for consumption. Communities that have been disadvantaged over the years due to cannabis prohibitions will be prioritized. The state plans to provide equal opportunities for these communities to right the previous wrongs. Lawmakers have to learn from the successes and mistakes of legal states to create the best recreational market the state could hope for.
NEW YORK'S CANNABIS MARKETS, READ MORE…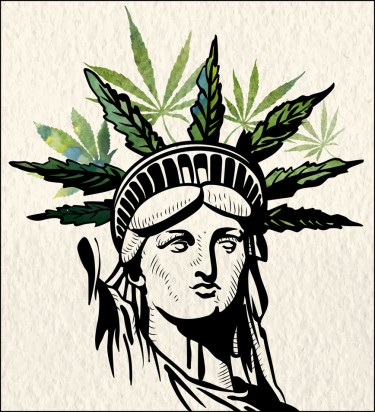 HOW NEW YORK IS SET UP TO BE THE EAST COAST KINGPIN OF WEED!
OR..